Welcome to the Sing Wiki!
Welcome to the Sing Wiki, the unofficial collaborative encyclopedia for the animated comedy adventure film Sing, which premiered in the United States on December 21st, 2016. This wiki is your number one source of information about the characters, songs, cast and much more from Sing!
We currently have 12,961 edits to 380 articles and 1,462 images on this wiki.
Please be aware that this wiki contains all kinds of information about Sing, including occasional spoilers for the movie. If you have yet to see Sing, please view our wiki cautiously. We have provided spoiler warnings on pages and comments when necessary.
Characters
Read about more characters here!
Gorilla voiced by
Peter Serafinowicz
Big Daddy is the (former) tertiary antagonist and the father of Johnny, and the mobster leader of a gang of robbers in Sing. He wants for his son to follow in his criminal footsteps and his overbearing character makes it hard for Johnny to argue. He also owns a garage where he uses as a living space and as a hideout. He is voiced by Peter Serafinowicz.

Big Daddy is an anthropomorphic gorilla. It is seen that he has a very large physique (hence the nickname "Big Daddy"). He is wearing a blue jumpsuit and a white shirt under it. When performing a robbery, he (and his helpers) wear a white rabbit mask.

Big Daddy seems to have a rough and strict attitude towards Johnny at first. He wants his son to follow in his footsteps and be an organized criminal, but scolds him when he wants to be singer instead. After a botched robbery due to Johnny failing to have the getaway vehicle ready, he goes to prison and later shuns his son during a conference. However, he became very proud of him after seeing his son's performance of "I'm Still Standing" on a prison television. He was so proud that he managed to break out of jail and evade police pursuit long enough to briefly see and appreciate him backstage during Mike's performance of "My Way" before leaving to turn himself in.
(Read more...)

---
Previously featured characters:


Vote for the next featured character on the poll to the right!
Editing
We need your help expanding and adding articles to the wiki!
Join us to help grow our community! If you don´t know where to start:
First, you must create an account (read more here).
When you have an account, you can edit, comment, add to your blog, chat with other users, and more.
You can also upload a picture or video, but please check the "Images" and "Videos" section located in our navigation bar to ensure you aren't uploading a duplicate.
If you are having trouble with something here, please contact one of our administrators listed on this page.
---
---
If you're new to Wikia, please use the links above to get started or ask the
Admins
of this wiki. If you already have editing experience and have an article relating to
SING
to contribute, use the box below to create it:
Administrators
The following people are administrators of this wiki:


If you have any questions, comments, suggestions or concerns, or simply want to talk about Sing, feel free to send them a message!
Disclaimer
Per Fandom's Terms-of-Use and COPPA, you must be 13 years of age or older to edit on the Sing Wiki or any wiki. This wiki is for archival and educational purposes only and is not meant to gain any revenue. Sing is owned by Illumination Entertainment and Universal Pictures.
What's happening on the Sing Wiki...
Blogs
Create blog post
Blogslist
Hi! So, I'm new to th wiki, and I'd really like to know what's always going on. Ok, bye.

Read more >




All fans of Sing, great and small, I, SirBlaze, officially present to you: The Sing Collection!

A 5-hour playlist on Spotify including nearly every song used in Sing, in chronological order, with additiona…



Read more >

Hello and welcome to Heatherlight11's userblog! I may not do much posts... but ahh whatever.

I love Moana. (A lot, might I add.)
I saw Sing three times on the day I first saw it.
I listened to the sound…

Read more >
See more >

Featured Video
The Sing Wiki on Social Media
Sing: The Official Website
Want to learn about Sing from a commercial point-of-view? See the official website for Sing here!
---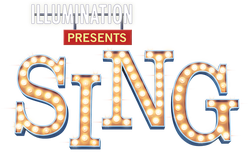 Polls
Who should be the featured character for November 2017?
Who is your favorite main character?
Whose performance in Sing did you enjoy the most?