Welcome to the Sing Wiki!
Welcome to the Sing Wiki, the unofficial collaborative encyclopedia for the animated comedy adventure film Sing, which premiered in the United States on December 21st, 2016. This wiki is your number one source of information about the characters, songs, cast and much more from Sing!
We currently have 11,137 edits to 341 articles and 1,121 images on this wiki.
Please be aware that this wiki contains all kinds of information about Sing, including occasional spoilers for the movie. If you have yet to see Sing, please view our wiki cautiously. We have provided spoiler warnings on pages and comments when necessary.
Characters
Read about more characters here!
Featured Character (July 2017): Gunter
Gunter is a male pig who is one of the secondary tritagonists of the movie Sing, serving as the comic-relief. He also stars in the Sing home release-exclusive short "Gunter Babysits". He is voiced by Nick Kroll.

Gunter is an anthropomorphic pig. While he is rather large in weight, he has great skill in aerobics and dancing. He wears a sparkly golden hoodie and pants covering a shiny red unitard with black dancing shoes.

Gunter is a bubbly, hyperactive and passionate performer and is not afraid to show how much he loves to sing and dance, and he even enjoys sharing his passion with others, as he tried to help Rosita dance by letting the music tell her body what to do rather than follow a long series of complicated dance steps. His only problem is conveying it in a way that others can understand and relate to. He also shows sympathy for Ash when he hears that her boyfriend, Lance cheated on her, even insulting Lance. He gives it his all in performing, calling his drive and passion 'piggy power', but can be a little air-headed, as he answered Buster's question to Rosita of being okay after she tripped and fell. He speaks with a German accent.
(Read more...)

---
Previously featured characters:


Vote for the next featured character on the poll to the right!
Editing
We need your help expanding and adding articles to the wiki!
Join us to help grow our community! If you don´t know where to start:
First, you must create an account (read more here).
When you have an account, you can edit, comment, add to your blog, chat with other users, and more.
You can also upload a picture or video, but please check the "Images" and "Videos" section located in our navigation bar to ensure you aren't uploading a duplicate.
If you are having trouble with something here, please contact one of our administrators listed on this page.
---
---
If you're new to Wikia, please use the links above to get started or ask the
Admins
of this wiki. If you already have editing experience and have an article relating to
SING
to contribute, use the box below to create it:
Administrators
The following people are administrators of this wiki:
If you have any questions, comments, suggestions or concerns, or simply want to talk about Sing, feel free to send them a message! </div>
Disclaimer
Per Fandom's Terms-of-Use and COPPA, you must be 13 years of age or older to edit on the Sing Wiki or any wiki. This wiki is for archival and educational purposes only and is not meant to gain any revenue. Sing is owned by Illumination Entertainment and Universal Pictures.
What's happening on the Sing Wiki...
Blogs
Create blog post
Blogslist
Hello and welcome to Heatherlight11's userblog! I may not do much posts... but ahh whatever.

I love Moana. (A lot, might I add.)
I saw Sing three times on the day I first saw it.
I listened to the sound…

Read more >

I have seen Sing many times because I have the DVD.

Read more >

Want to talk about SING with fans all around the globe? Now there's another place for it!

https://www.facebook.com/groups/fansofsing/


At Fans of SING, we welcome discussion about everything from SING: char…


Read more >
See more >

Featured Image (July 2017)
A poster promoting Sing is briefly seen on the back of a city bus driving down the Brooklyn Bridge.
(from "
The Secret Life of Pets
")
Featured Video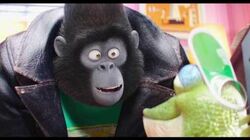 The Sing Wiki on Social Media
Sing: The Official Website
Want to learn about Sing from a commercial point-of-view? See the official website for Sing here!
---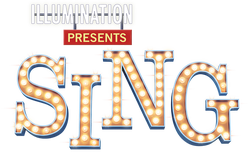 Polls
Who should be the featured character for August 2017?
Who is your favorite main character?
Whose performance in Sing did you enjoy the most?
Ad blocker interference detected!
Wikia is a free-to-use site that makes money from advertising. We have a modified experience for viewers using ad blockers

Wikia is not accessible if you've made further modifications. Remove the custom ad blocker rule(s) and the page will load as expected.