"
Dad, I don't want to be in your gang. I wanna be a singer.
"
–Johnny
INFO
Johnny is a male British-accented mountain gorilla who is one of the main tritagonists of the movie Sing.
He is voiced by Taron Egerton.
Appearance
Johnny is an anthropomorphic mountain gorilla with brown eyes and black fur. He is taller than most of his fellow contestants and has a muscular build. He wears a black leather jacket, a green undershirt with a yellow lightning bolt and stars, blue jeans, and dark blue shoes.
Personality
Johnny is a soulful, British-accented gorilla whose beautiful singing voice and passion for music are in direct opposition to his role in his father's bank robbing crew. Deep down, Johnny wants to be a singer but knows that his alpha-male father would disown him if he knew the truth. He keeps his involvement in the competition secret, straddling a double life as an aspiring singer by day and getaway driver by night.
His personality is funny, slightly dim, innocent, helpful, caring, friendly, sweet and fun-loving.
Biography
The son of a mobster, Johnny is expected to follow in his father's criminal footsteps but his true passion is singing but he doesn't have the confidence to admit it to his father due to his fear of his father's disapproval. 
When he finally decides to take a chance to follow his dream by auditioning for Buster Moon's singing competition, he takes every measure to keep his passion and his father's criminal activities apart. This causes tension for Johnny as he tries to commit himself to his ambition and the contest, and to his father's expectations, which inevitably go wrong when his going back and forth between the contest and a heist causes him to not be there as the getaway driver, leading to his father and his gang getting arrested and thrown in jail.
Visiting his father in prison, Johnny finally has to come clean to his father and confesses that he doesn't want to be a criminal, that he wants to be a singer, and he is devastated when his father disowns him, even though Johnny swears to bail him out. He initially plans to steal the prize money to pay for his father's bail, but having come to care for the others and see them as friends after seeing himself and his friends on the call back list, he can't go through with it and betray his friends, so he chooses to win the money fair and square. 
This goal is dashed when it turns out Buster lied about the prize money, but Johnny (along with the other singers) finds it in his heart to forgive Buster and states his desire to perform even without a prize. 
In the performance, Johnny plays the piano while singing Elton John's "I'm Still Standing", and pulls off a great performance. The feeling is bittersweet, however, as Johnny is still sad that his bond with his father is beyond repair. This turns out to be wrong when Johnny's father (after seeing him perform on TV) breaks out of prison and comes to the theater to reconcile with his son and tell Johnny how proud he is of him. With the cops closing in, Johnny's father takes his leave to return to prison, with Johnny promising to visit him often. Johnny fulfills his dream of becoming a singer, and attends the grand re-opening of Buster's theater.
Quotes
---
"
Dad? Oh no, I've run over my dad...
"
–Johnny, thinking he accidentally ran his father over during practice with the getaway vehicle
---
"
I was at a rehearsal.
"
–Johnny
---
"
Dad... I'm sorry, I just don't wanna be in your gang. I wanna be a singer.
"
–Johnny
---
"
Dad, wait! I'll get the money! I'll get you out, I promise!
"
–Johnny
---
"
Listen, you're not the only one who lost something. We all did. I mean, I lost any chance of ever speaking to my dad again over this show.
"
–Johnny, trying to cheer up Buster Moon
---
---
"
Oh! Come on, Miss Crawly it's never too late to romance. Have you ever heard of online dating?
"
–Johnny
---
Songs
Trivia
He is known as "The Rebel", according to Sing Website.
His introduction scene is the first of five.
His rehearsal performance of "All of Me" was the fourth of four.
His final performance of "I'm Still Standing" was the second of five.
He was unintentionally responsible for his father's arrest.
He used to play the piano when he was younger. When Buster asks him to play the piano, Johnny mentions that he hasn't played since he was a child.
When his father was training him to corner drift for the heist, the song playing in the getaway truck was "Hold On, We're Going Home" by Drake.
Johnny is the only character in Sing to be part of a Critically Endangered species.
Gallery
| | |
| --- | --- |
| | This link leads to the image gallery for Johnny. It can be viewed here. |
Videos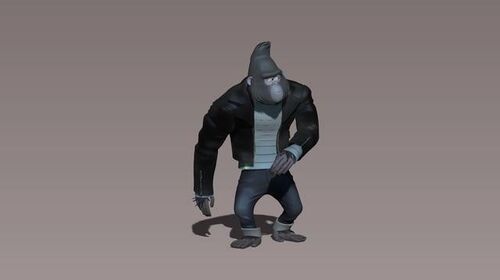 References
Ad blocker interference detected!
Wikia is a free-to-use site that makes money from advertising. We have a modified experience for viewers using ad blockers

Wikia is not accessible if you've made further modifications. Remove the custom ad blocker rule(s) and the page will load as expected.