INFO
Calatonia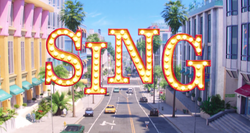 Primary setting of Sing
Calatonia is a fictional state that is the primary setting of the film Sing. According to interviews in the bonus features for the home release of Sing, the location's style was intended to be a mixture of Miami, Florida and parts of California.
It is the home to Moon Theater, the homes of the main characters, and every other location in the film. According to a shirt worn by Buster Moon at one point, Calatonia also has its own university. Its name may be a reference to Catalonia, a region in northern Spain.
Ad blocker interference detected!
Wikia is a free-to-use site that makes money from advertising. We have a modified experience for viewers using ad blockers

Wikia is not accessible if you've made further modifications. Remove the custom ad blocker rule(s) and the page will load as expected.